FAA Part 145 operation provides 24/7 business jet maintenance, repair and overhaul services, large parts and rotables inventory and AOG mobile response for southwestern U.S.
(Los Angeles — February 13, 2019) Clay Lacy Aviation has opened a new round-the-clock aircraft maintenance, repair and overhaul facility for its FAA Part 145 repair station at Van Nuys Airport in Los Angeles. This facility provides light and heavy maintenance and repair services, avionics and cabin entertainment upgrades and installations, interior design, modifications and refurbishing, and 24/7 AOG support for the southwestern U.S. Employing over 70 technicians, avionics experts, interior craftsmen and support specialists, the facility sits on 7.6 acres with a 66,000-square-foot hangar and 86,000 square feet of office and shop space. New features include an expanded parts and rotables department, interior design suite, battery refurbishment center, client office suites and conference room. The repair station services Gulfstream business jets, Bombardier's Learjet, Challenger and Global models, Dassault Falcon jet models, Hawker aircraft and is an authorized service center for the Embraer Phenom 100 and 300. Line maintenance is available on all other business jet models.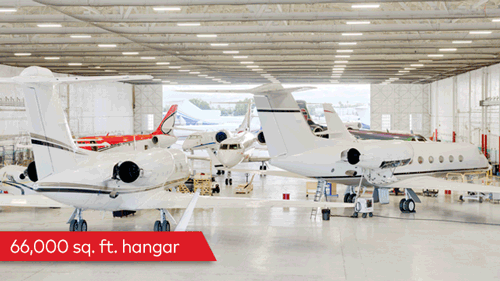 "We leveraged our 50 years of aviation experience to create the best one-stop aircraft maintenance center in Southern California," said Ed Mirzakhanian, Vice President, Maintenance and Business Development, Clay Lacy Aviation. "Our new Van Nuys facility can accommodate as many as 15 large-cabin aircraft and the needs of every client, from general inspections to airframe repair, domestic and international Wi-Fi installations to cabin management systems and complete interior upgrades."
The facility is an authorized Gulfstream supplier, and an Embraer Authorized Service Center for Phenom 100 and Phenom 300 aircraft. It is also an authorized dealer for Gogo, SmartSky and Honeywell high-speed internet solutions, and Honeywell, Rockwell-Collins, and Garmin avionics warranty programs. The $3.4 million parts inventory includes 6,000 line items and 55,000 parts for shipping worldwide. Also onsite is a full-service interior shop where highly skilled craftsmen perform complete cabin design, reconfiguration and refurbishing, lighting conversions, and cabinetry construction and refinishing.
To speak with a Clay Lacy aircraft maintenance expert call 818-989-2900 or email jetsupport@claylacy.com.
About Clay Lacy Aviation
Founded in 1968 by legendary aviator and industry pioneer Clay Lacy. Today, Clay Lacy Aviation is considered the world's most experienced operator of private jets. Prominent individuals and leading corporations trust Clay Lacy for aircraft management, charter, maintenance, avionics, interiors and FBO services. The company has aircraft operations and regional offices across the U.S., including a full-service FBO at Van Nuys Airport in Los Angeles, and aircraft maintenance centers in Los Angeles, San Diego, and Oxford, Connecticut. Clay Lacy is the authorized dealer for the Quest Kodiak 100 Series II in the Northeastern U.S. With the most knowledgeable team in the industry, Clay Lacy delivers superior safety, service and value to aircraft owners and jet travelers worldwide. Visit claylacy.com.
Press Contact
Scott Cutshall
Clay Lacy Aviation
+1 (818) 989-2900 x706
Email
# # #