Challenger joins Global 6000 in Palm Beach and second Challenger 350 in Miami
(Palm Beach, Fla.—May 11, 2021) A Bombardier Challenger 350 has joined Clay Lacy Aviation's South Florida private jet charter fleet. Based at Palm Beach International Airport (KPBI), this super-midsize Challenger 350 offers domestic Wi-Fi, Gogo Vision catalog of the latest movies and TV shows and satellite phone. With a nonstop range of 3,200 nautical miles, it is ideal for flights in the U.S., Canada, Caribbean, Mexico, and Central and South America. Jet charter clients will enjoy Clay Lacy's legendary Inflight personal service and value the company's Clean Check Health and Safety Standard. This Challenger 350 joins a Bombardier Global 6000 ultra-long-range jet, also at Palm Beach International Airport, and a second Challenger 350, based at Miami-Opa Locka Executive Airport (KOPF).

Bombardier Challenger 350: Domestic Wi-Fi,  Gogo Vision, Sleeps Four
This eight-passenger Challenger 350 aircraft offers class-leading comfort in a wide, spacious cabin. The generous, sculpted seats feature 180-degree swivel, tracking and recline. Gogo Vision InFlight Entertainment seamlessly streams over 150 movies, dozens of magazines, Bloomberg news, weather and more. There are two, 22-inch high-definition monitors, and the class-exclusive integrated sidewall speakers provide crystal-clear audio. Other amenities include domestic and international satellite phone, wireless cabin environment control, and fully outfitted galley. There is also an enclosed lavatory with vanity. Charter this Challenger 350 from Palm Beach International Airport.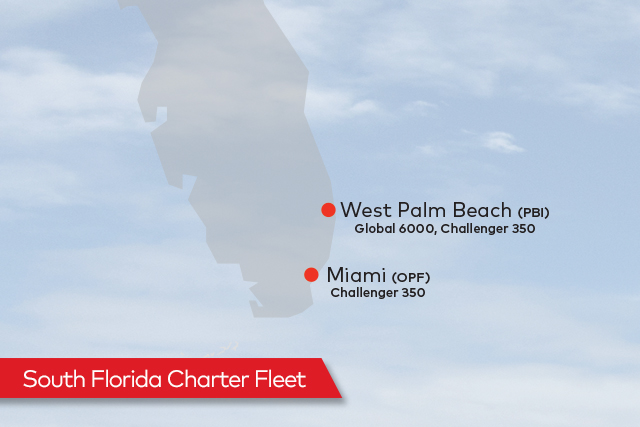 South Florida Charter Fleet
Clay Lacy also offers two additional South Florida private charter jets to meet the domestic and international travel needs of clients across the U.S. Southeast.

Bombardier Global 6000 Speeding up to 6,000 nautical miles across oceans and continents, this superb Global 6000 seats 13 passengers and sleeps six. The long list of premium amenities includes ultra-fast Ka-band inflight internet connectivity for seamless international streaming. Also onboard are a satellite phone, large, full-featured galley, passenger and crew wardrobes and two enclosed lavatories. Charter this Global 6000 from Palm Beach International Airport.

Bombardier Challenger 350 This spacious super-midsize Challenger 350 seats eight and sleeps four on fast, nonstop charter journeys up to 3,200 nautical miles. Passengers will enjoy Wi-Fi, flight phone, satellite radio and more. Charter this Challenger 350 from Miami-Opa Locka Executive Airport.
About Clay Lacy Aviation
Founded in 1968 by legendary aviator and industry pioneer Clay Lacy. Today, Clay Lacy Aviation is the world's most experienced operator of private jets. Prominent individuals and leading corporations trust Clay Lacy for aircraft management, charter, maintenance, avionics, interiors and FBO services. The company has aircraft operations and regional offices across the U.S., including a full-service FBOs at Van Nuys Airport in Los Angeles, and Orange County's John Wayne Airport, with a third FBO opening at Waterbury-Oxford Airport in 2022. Clay Lacy also has FAA Part 145 aircraft maintenance centers in Los Angeles, San Diego and Oxford, Connecticut. With the most knowledgeable team in the industry, Clay Lacy delivers superior safety, service and value to aircraft owners and jet travelers worldwide. Visit claylacy.com
Press Contacts
Scott Cutshall
Clay Lacy Aviation
+1 (818) 989-2900 X706
Email
# # #